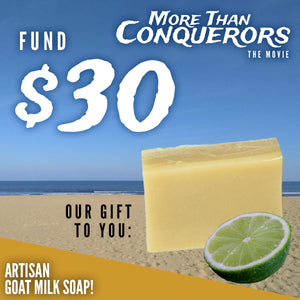 Help fund $30 of "More Than Conquerors" - The Movie and get an artisan goat milk soap! 
Net Wt. 4.25 oz.
All natural.
Free of harsh chemicals.
Free of artificial colors and preservatives.
Handcrafted with care in small batches.

Made with natural oils and goat milk from small dairies.

Made in America.
Help "clean up" the media by helping us make our next film! Order some today!