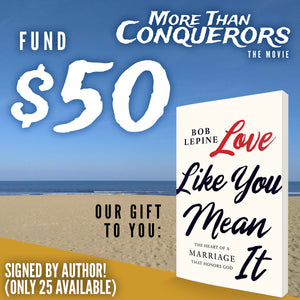 Help fund $50 of our movie "More Than Conquerors" and receive a signed copy of Bob Lepine's latest book! Less than 25 signed copies available
About the book:
Every year, millions of men and women stand before friends and family to pledge their lifelong love to each other. Do they know what they're getting into?
Unfortunately, many people have a shallow, superficial idea of what marriage is. As a result, many marriages don't last, and many more married couples are trudging along looking for something more.
Love Like You Mean It gives husbands and wives a biblical understanding of what real love looks like in marriage by unpacking the ten attributes of genuine love listed in 1 Corinthians 13. Bob Lepine, marriage and family expert and host of the nationally syndicated radio program FamilyLife Today, helps husbands and wives discover that it's not primarily emotions that define marital love, but actions and decisions that fuel emotions and cause marital love to grow. This is written to every person who is married, would like to be married one day, or wants to understand more about the biblical vision of marriage will find what they're looking for as they dive deep into Love Like You Mean It.
About the author:
Radio and podcast listeners know Bob Lepine as the co-host of FamilyLife Today®, FamilyLife's nationally syndicated radio program. He is the author of Love Like You Mean It: The Heart of a Marriage That Honors God (2020) and The Christian Husband (1999). Bob is also the on air announcer for Truth for Life with Alistair Begg. Bob also serves on the Board of Directors for National Religious Broadcasters. Since 2008 Bob has served as an elder and teaching pastor at Redeemer Community Church in Little Rock, Arkansas. Bob and his wife, Mary Ann have five children and nine grandchildren.